The National Flower of  Egypt  is  White  Egyptian  Lotus. The White  Egyptian  lotus  have  a deep  relation with   ancient  Egyptian  culture. Egypt  was  the  first  country  who identify  the  national  plants  and  flowers. Lotus  is  commonly  known  as  the  water lily. Egypt  ( Misr, In the Arabic language)  is  one  of  the  countries  which has  largest  ancient history. Despite  the  aridity  factor  many  popular  flowers  like  Rose  Richards, Egyptian Lotus, Immortelle Lychnis, Jasmine, Narcissus bulbs, Acacia, Sesban, Epilobium, hismum, Chrysanthemum, Cornflower, Red poppy,  Arum, Dragonwort, Crinum ,Papyrus, Iris  Albicans  are  native  to  Egypt.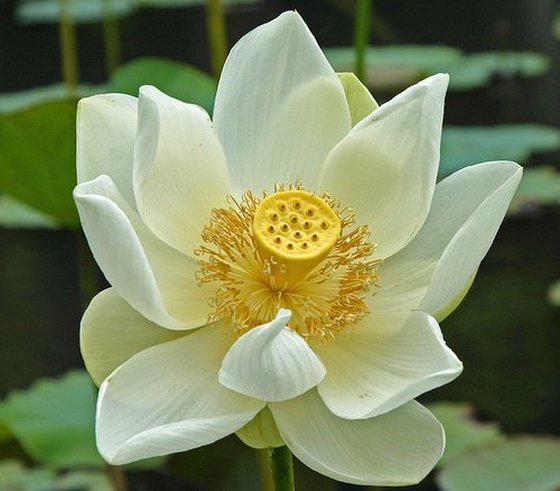 Interesting Facts about White Egyptian Lotus.
The White Egyptian lotus also know as Tiger Lotus and Egyptian white water-lily belongs to Nymphaeaceae family with Nymphaea as a genus. It is Native to some part Asia , East Africa and Romania (Europe). It grows up to 45cm in height. It is an aquatic flower. They are rooted underwater and the leaves of water lily float on the water surface. It is 8 inches in diameter. It possesses sharp and pointed petals. It has a unique trait, it opens in the morning and close at night. It is found in marshy Places, Ponds and acidic water. It has many medical uses and also consider in decoration . Many people take a bowl and fill it its water and then put a lotus on it.
Why is Lotus the National Flower of Egypt?
Egypt  has  a  great history  not  only  in  regard  to  religion  but  als o with  the  flower lotus. It was worshiped by egyptian people in ancient times, For them lotus in pious flower despite marshy place it is clean.For them, it was  the symbol of existence and creation. The ancient Egyptian considered it as the symbol of strength and power. The White Egyptian Lotus have a deep history with antient religions. These are the some hilighted reason which made it the National Flower of Egypt.
More National Flowers of  United Arab Emirates Countries:
Tribulus: The National Flower of United Arab Emirates
Jasmine: The National Flower of Syria
Cedar Tree: The National Flower of Lebanon
White Egyptian Lotus: The National Flower of Egypt
Tulip: The National Flower of Iran
Tulip: The National Flower of Turkey
Red Rose: The National Flower of Iraq
Al-Arfaj: The National Flower of Kuwait