Poetry is something that has deeper roots than anything in most cultures. It has even deeper roots in Indian history and culture which is one of the oldest civilizations. If you are a part of that culture, you will like to read and share New Year Hindi Shayari or Poetry and this article brings you plenty of that.
We have chosen our favorite poets who have written about various events including New Year Celebrations. These New Year Hindi poems about love can be sent to your wife or girlfriend and make her feel special on this Happy New Year 2024 Eve. To make it easier for you, we have also made new year's Hindi Shayari in English available on our site.
Happy New Year 2024 Hindi Shayari in English
If you have recently developed an interest in Hindi poetry and you are a non-native or foreign speaker, you will like to read New Year Hindi Shayari in English. We have chosen the best New Year Hindi poems from our huge collection of Hindi Shayari for the New Year so let us now bring you those: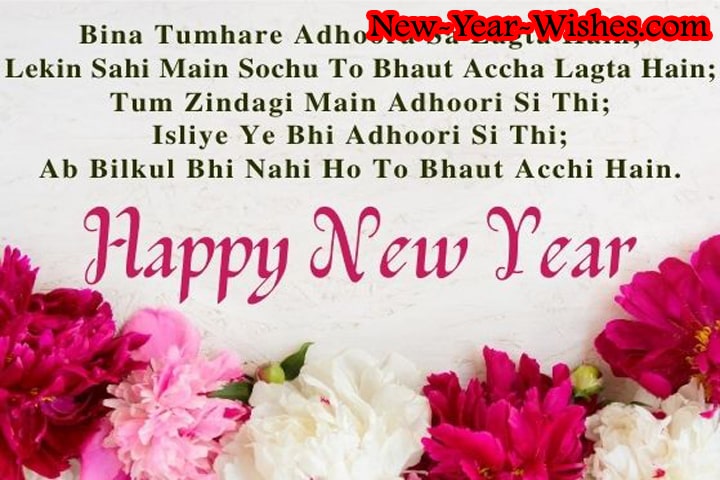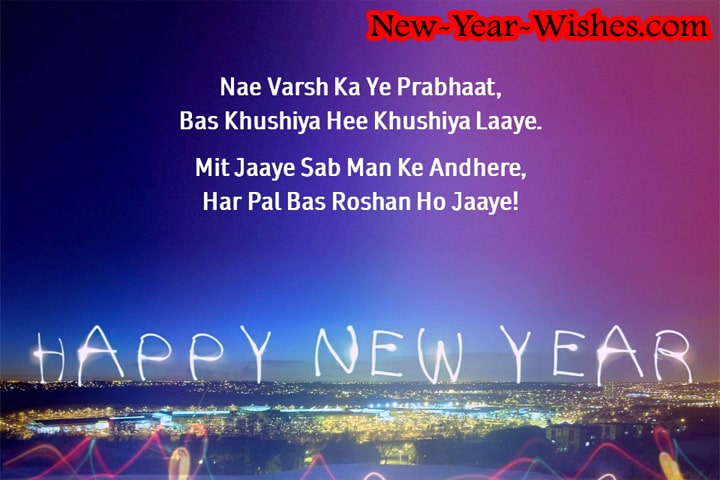 1.    New Year Love Poem to propose to her in Hindi:
If you are looking forward to proposing your love on this New Year's Eve, you can use these romantic lines:
Alwida keh do is saal ko
Bid goodbye to this year
Ab naya saal aane wala hai
The new year is about to begin
Samjho mere dil ke haal ko
Please try to understand my state of mind
Ab naya saal aane wala hai
The new year is about to begin
Jo kahani hamari is saal rahi adhuri
Our story that remained incomplete this year
Naye saal mein kyo na karein usko puri
Why not complete it in the new year?
Batein karein khul ke ham pyar bhari
Let is talk our heart out to each other
Kuch ho tumhari kuch ho meri
Some talks being yours and some mine
Dekhein Vidhata ne diye hain sundar nazaare
Let us look at the scenic beauty created by God
Gayein dono mil kar prem geet pyare pyare
Let us sing sweet and romantic songs together
Tumhare liye thali mein sundar pakwan parosoon
I will serve you delicious meals in a plate
Pyaas lage to gilas mein saaf pani de doo
If you feel thirsty, I shall pour clean water in a glass for you
Shaam ko jab tum thak jao
In the evening when you are tired
Tumhara sir daba doon
I shall give you a head massage
Agar sone ka man ho tumhara
If you wish to sleep
Tumhara bistar laga doon
I shall prepare your bed
Tum mere dil mein basi ho mere dil ki ho rani
You reside in my heart, you are the queen of my heart
Naye saal mein naye dhang se shuru karein apni prem kahani
2.    New Year Shayari in Hindi:
Either your girl can only read Hindi or she is someone who values her native language more, it would be better if you use the traditional Hindi way of writing to send her a New Year Hindi poem. In that case, here is the Hindi version of our favorite New Year poem for love:




अलविदा कह दो इस साल को
अब नया साल आने वाला है
समझो मेरे दिल के हाल को
अब नया साल आने वाला है
जो कहानी हमारी इस साल रही अधूरी
नए साल में क्यों न करें उसको पूरी
बातें करें खुल के हम प्यार भरी
कुछ हों तुम्हारी कुछ हों मेरी
देखें विधाता ने दिए हैं सुन्दर नज़ारे
गायें दोनों मिल कर प्रेम गीत प्यारे प्यारे
तुम्हारे लिए थाली में सुन्दर पकवान परोसूं
प्यास लगे तो गिलास में साफ पानी दे दूँ
शाम को जब तुम थक जाओ
तुम्हारा सर दबा दूँ
अगर सोने का मन हो तुम्हारा
तुम्हारा बिस्तर लगा दूँ
तुम मेरे दिल में बसी हो मेरे दिल की हो रानी
नए साल में नए ढंग से शुरू करें अपनी प्रेम कहानी
Conclusion:
So download this romantic New Year Hindi Shayari and impress your girl in the sweetest way on earth. Then, take her to a lovely New Year Date and spend some lovely time. Check out other articles on our website for exciting New Year 2024 content, cheers!
Keep visiting Helo National for more updates.