The national flower of New Zealand is Kowhai. It is a yellow flower with goldish shade. It is highly popular amongst the people of new Zealand. It is famous for its utmost uses and its unique shape. But in actually new Zealand doesn't have an official national flower instead of it Silver Fern is promoted as a national emblem in New Zealand.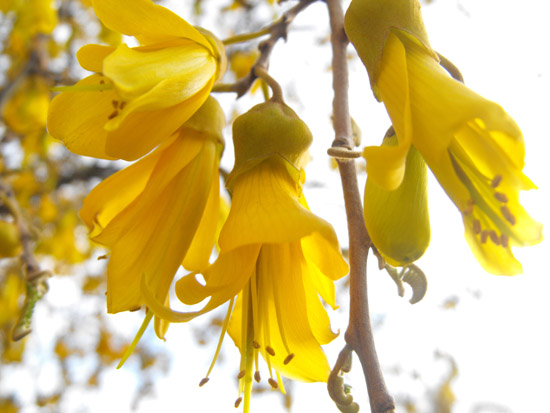 Interesting Facts about Kowhai
Kowhai belongs to the genus Sophora. It is native to New Zealand. They are Shor trees and  usually found in almost every garden of New Zealand. The word Kowhai is derived from Maori language(Eastern Polynesian language) which relates to color term.They are yellow in color. They reach the maximum height to 8 meters and possess small leaves. The size of their flower is usually 2.5 cm to 3.5 cm long. Their seeds are also yellow.Kowhai is known for its wood as it has dense and strong wood is being used for machinery. It is also used in medical laboratories. It is also used as a wounding agent as if you were bitten by a seal or other animal apply it on the infected area you well get relieved in few days.
Why is Kowhai the National Flower of  New Zealand?
Instead of national official flower New Zealand have Silver fern as the national emblem you have also witnessed it on New Zealand's f lag  but now because of the great qualities and abundance of Kowhai, it is considered as the national flower of New Zealand. Its shape is Unique, have a wounding ability. Yellowish in color (some people considered yellow as the color of friendship) it is loved by the people of New Zealand and they exchange Kowhai on Pious events.
More National Flowers of Oceania Countries:
Golden Wattle: The National Flower of Australia
Kowhai: The National Flower of New Zealand