The National flower of Japan is Chrysanthemum. The people of Japan usually called it Mums or Chrysanths. They are native to Asia and northeastern Europe, they are also found in China in a large number and are the highly beloved flower among the people of Japan. In the 15th century, it was first cultivated in China. The emblem of the flower can also be seen on the passport of Japan.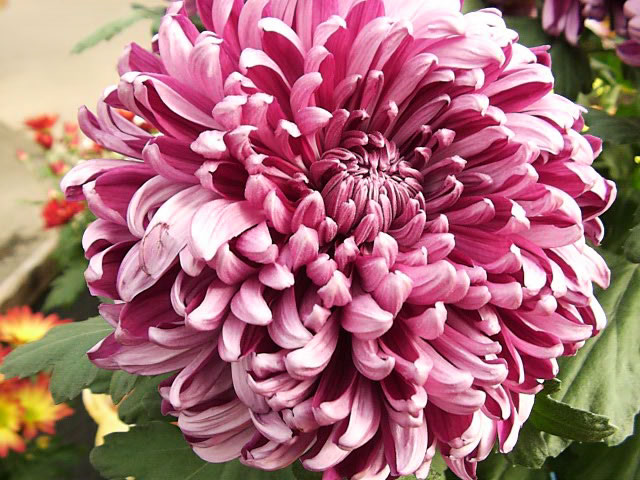 Interesting facts about Chrysanthemum.
Chrysanthemum belongs to Asteraceae Family (Asteroideae, Subfamily). Chrysanthemum is the genus of a flowering plant species. It has other 40 wild species too. The name Chrysanthemum is derived from Greek words. Chrysanthemum blooms early in fall and is available in a wide range of colour i.e: white, yellow, brown, red, pink. Some species of chrysanthemum use to make drinks in some parts of Asia by boiling it and is called Chrysanthemum tea (júhuā chá, in Chinese).
In Korea chrysanthemum is used to make rice wine flavoured and they called it gu Khwaja (in the Korean language). It has a Unique interesting fact as it can control indoor air population and is being used in many offices.
People of Europe have different concepts about this flowers, Chrysanthemums are used on the grave as they believe it is a symbol of death in Europe, but in the United States, it is considered as a symbol of happiness and a positive sign Similarly in Japan white chrysanthemum is the symbol of grief.
In Australia, the chrysanthemum is given to the mother on the mother's day as it is the sign of happiness for them. the fruits of chrysanthemum are called a ribbed achene. They are considered as the best for medical experiments.
Why is Chrysanthemum the national flower of Japan?
Chrysanthemum is considered as the symbol of an emperor and the imperial family of Japan. The Chrysanthemum is highly popular in Japan and is the most loved and reputed flower as the name of the Japanese emperor and throne is the chrysanthemum throne.
It also symbolizes Happiness joy love or grief depending on the colour of the chrysanthemum. The core reason for it being the national flower of Japan is not only its rare beauty but also its uses. It is been used in medicines since ancient times and also its abundance throughout the japan make this the national flower of Japan.
Keep visiting Helo National for attending global events.