The very first Monday in November is focused on carrying consciousness to Complex Regional Pain Syndrom and also Reflex Sympathetic Dystrophy with Color the World Orange Day. All people are urged to dress in orange, arrange a ceremony or take part in someone to help out in broadening consciousness. Check out the sites or the FB page to learn more about how to get involved.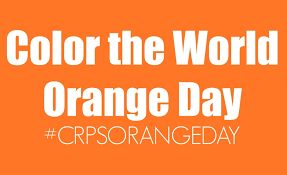 Hmm! Well said by Jodi Picoult:
"I …understand how a parent might hit a child- it's because you can look into their eyes and see a reflection of yourself that you wish you hadn't."
5 Ways to Celebrate Color the World Orange Day:
Take your whole day to complex individuals and propose your love to them.
Dress in orange color clothes, so always make it prominent over whole the globe.
Produce an awareness to those people who don't much conscious to poor ones.
Make a ceremony in which you deliver some facts about that event, especially our youth ones.
Use the power of social media by publishing posts over that topics.