The National Anthem of Uganda is Oh Uganda, May God uphold thee. It was first played and adopted in 1962. As per Wikipedia it is among the shortest anthem of the world so people of Uganda repeat it twice to lengthen it.
National Anthem of Uganda – Oh Uganda Land of Beauty:
O Yuganda!
Katonda akuwanirire,
Tussa eby'omumaso byaffe mu mikono gyo,
Mu bwegassi n'obuteefu,
Ku lw'obumu,
Tujjanga bulijjo kuyimirirawo!
O Yuganda!
Ensi y'eddembe,
Okwagala n'okulusana tubikuwa,
Ne baliraanwa baffe boona,
Lw'omulanga gwensi yaffe,
Mu mirembe n'omukwano tunaberawo!
O Yuganda!
Ensi etuliisa,
Lw'omusana n'obugimu bw'ettaka,
Lw'obugazi bw'ensi yaffe,
Tujja kuyimirira bulijjo,
Ekimasa ky'amakula ga Afirika!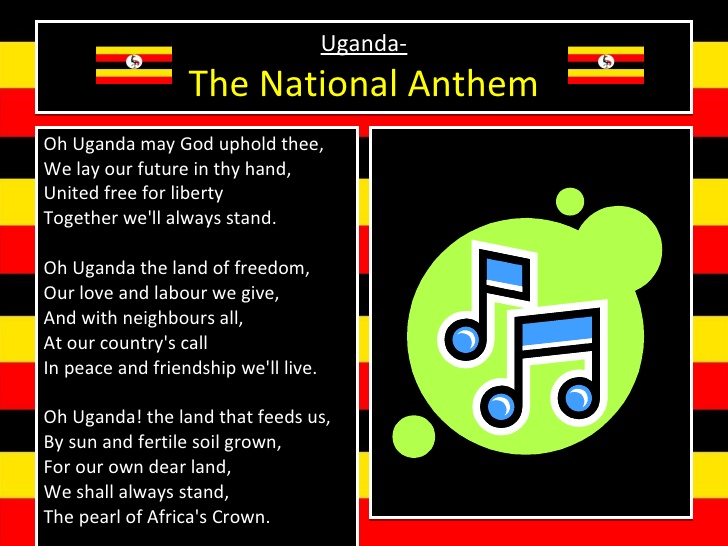 Uganda National Anthem English Lyrics:
Oh Uganda!
May God uphold Thee,
We lay our future in thy hand,
United, free,
For liberty,
Together we'll always stand.
Oh Uganda!
The land of Freedom,
Our love and labor we give,
And with neighbors' all,
At our Country's call,
In peace and friendship, we'll live.
Oh Uganda!
The land that Feeds us,
By sun and fertile soil grown,
For our own dear land,
We'll always stand,
The Pearl of Africa's Crown.
More National Anthem of African Countries:
Rwanda Rwacu: The National Anthem of Rwanda
Mungu ibariki Afrika: The National Anthem of Tanzania
Terre de nos aïeux: The National Anthem of Togo
Oh Uganda, Land of Beauty: The National Anthem of Uganda
Simudzai Mureza wedu WeZimbabwe: The National Anthem of Zimbabwe